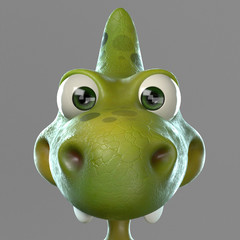 Siserman Oana Alexandra
3D Character Sculptor Toy Designer
Amsterdam , Netherlands
About
Welcome to my online page! My name is Oana, I'm a 3D digital sculptor and I always love offering a heartwarming experience through my work. My main goal is to inspire you by building designer characters and shaping their complex stories.
One of the most important things that I've learned over my years of experience in working as a digital artist is that "everyone has something to learn, everyone has something to teach". This simple idea has kept me motivated even in the toughest situations.
If you have a project that you want to get started, think you need my help with something or just fancy saying hey, then get in touch.

Thank you so much for your time reading about me and viewing my portfolio.
Live long and prosper,

Siserman Oana Alexandra
Contact Information :
Email : siserman_oana@yahoo.com
Skills
3D Animation
3D Modeling
3D Printing
3D Visualization
Character Modeling
Digital Sculpting
Texturing
Character Design
Character Animation
3D Scanning
Cartooning
Sculpture
3D Artist
3D
collectibles
Toy
designer toy
Software proficiency

3ds Max

Keyshot

Mudbox

Photoshop
Substance Painter
Unreal Engine

ZBrush
Productions
Movie

Momo Bingo

Year

2015

Role

3D Artist

Company

Framebreed Studio

Movie

Hello Mr. Freckles!

Year

2016

Role

3D Artist

Company

Framebreed Studio
Experience
At Twisted I am working on digital sculpting and organic modeling, complex texturing for innovative medical research presentations and VR visualization in Unreal.

At Framebreed Studio I am currently working on both commercial props and cartoon animation for children .

For more information in Framebreed Studio link here : http://www.framebreed.com/

I've worked remotely to implement a augmented reality project for real estate.